Founded by Samuel Berkowitz, a cabinetmaker from East London, Berkowitz Furniture has grown from a small traditional furniture manufacturer to become one of Victoria's most loved furniture retailers.
After migrating to Australia in 1912, Samuel Berkowitz opened a small furniture factory in Prahran, Melbourne, and started manufacturing fine bedroom and dining furniture.
After many years of success, Samuel and his three sons grew the business into a large manufacturing operation, selling directly to the public and eventually opening their first Berkowitz Fine Furniture store in 1949 on Collins Street in central Melbourne.
Samuel Berkowitz with workers from the Berkowitz furniture factory
Samuel's great-grandson and Berkowitz Furniture's current Chief Executive Officer, Peter Berkowitz joined the business in 1987 working his way up from the warehouse, and through the sales and buying departments.  
"Ever since my great-grandfather started his furniture manufacturing business in the late 19th century, the Berkowitz family name has been associated with beautifully crafted, well designed, quality furniture.
Today, Berkowitz Furniture is renowned for the quality of our service – a fact of which I'm very proud. The furniture you find at Berkowitz has been handpicked by me because it not only offers superior quality, but it is also priced to deliver the very best value."
A strong supporter of Australian-made furniture, Berkowitz is an Australian Made Retail Partner and actively promotes the benefits of locally made furniture to shoppers.
"Buying Australian Made furniture is a great way to support local retailers, local manufacturing and the Australian economy. We have a whole collection of Australian-made furniture available at Berkowitz Furniture, including dining sets, sofas, lounges and more," said Mr Berkowitz.
"The iconic green and gold kangaroo logo is well respected and recognised in our community. It reflects Berkowitz Furniture's ideals and our commitment to local manufacturers, and because of this has become central to our store branding and marketing activities.
We encourage shoppers to buy local when making their next furniture purchase. Products quality, ease of customisation and shorter lead times for delivery are just some of the advantages that come from buying Australian-made furniture."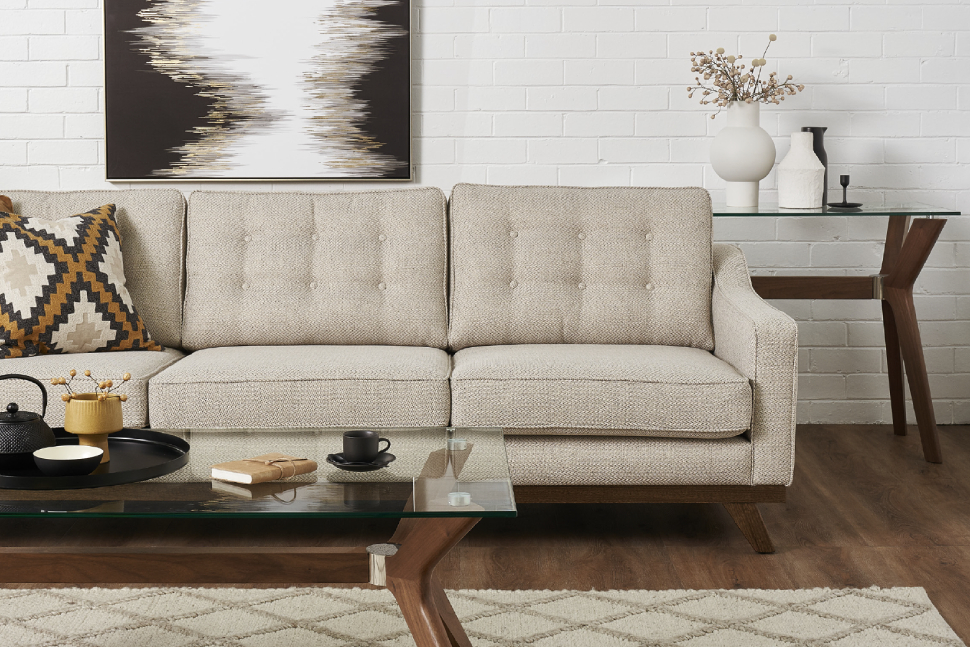 Australian Made Nora lounge by Berkowitz Furniture
Since its inception, Berkowitz Furniture has been a passionate advocate for local industry and has since established strong relationships with many local operators.
"Buying Australian-made furniture helps support small businesses and allows craftspeople to keep on doing what they love. Australian products also maintain a certain level of quality that other products do not always exhibit," Mr Berkowitz said.
 "At Berkowitz Furniture we believe customers shouldn't compromise, they should customise! And our relationships with local suppliers allows them to do so. We have a huge range of fabrics instore for shoppers to select their preferred colour and texture to suit their home and lifestyle needs." 
Now operating six stores in Victoria, five in Melbourne and one in Geelong, Berkowitz Furniture has just expanded its operations and opened its first interstate store at the Mile End Homemaker Centre in Adelaide, South Australia.
Mr Berkowitz said, "We are very excited to open our first interstate store and look forward to further growth in South Australia."
You can find out more about Berkowitz Furniture's Australian Made products here.
---
Berkowitz Furniture: A furniture family
Published
Wednesday, October 23, 2019
---
Share
---
Other Case Studies