The Australian Made Campaign is urging consumers to buy Australian-grown flowers for Valentine's Day this year, to enjoy the many benefits locally grown florals have to offer, and support local flower growers.
Planeloads of flowers are flown into Australia from around the world each year, but competition is particularly fierce in the lead-up to Valentine's Day. According to the Federal Department of Agriculture, Australia imported more than 9 million rose stems during February alone last year.
Australian Made Campaign Chief Executive, Ian Harrison, says although it's hard for imports to match the quality of our produce, the sheer numbers represent a major challenge for local industry.
"Many consumers would be unaware of the proportion of fresh flowers being imported, because country-of-origin labelling is not mandated," Mr Harrison said.
"Our clean, green environment helps produce some of the most beautiful flowers in the world, and the short distances they travel from farm to florist translates to exceptional shelf-life, so Australian-grown flowers offer great value for money."
"If its fresh, Australian-grown flowers they're after, we encourage shoppers to look for the famous Aussie logo, and in its absence, be sure to ask where the flowers were grown," Mr Harrison said.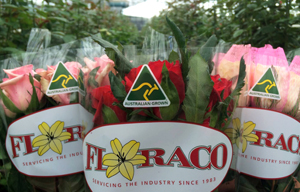 Guy De Kok, of national family-owned grower and distributor, Floraco, brands all of its bunches with the green-and-gold Australian Grown logo to promote high quality and longer vase-life.
"Buying Australian is a win for the consumer, and for the industry, and the Australian Grown logo tells that story for us," Mr De Kok said.
"By purchasing Australian-grown flowers, shoppers are giving back to all of the people involved in producing that bouquet – the people who planted the stems, harvested and distributed, the wholesalers and retailers – which is great for the local economy and community." 
---
A bunch of great reasons to buy Australian Grown flowers this Valentine's Day
Published
Tuesday, February 06, 2018
---
Share
---
Latest News